CURRENT MEMBERS
Roger Beazley CBE, AFC, BA, FRAeS – Branch President

Roger Beazley served for 32 years in the Royal Air Force initially flying Hunters, Lightnings and then the Phantom F4. He graduated from the Empire Test Pilots' School [ETPS] in 1973 following which the majority of his flying was in the flight test and R&D roles. His final service appointments included Head of Experimental Flying at the Royal Aerospace Establishment Farnborough and Director of Flying [R&D] within the UK Ministry of Defence.
On retirement from the Service in 1996 he took the appointment of Aerospace Adviser at the flight test centre at MoD Boscombe Down and more latterly acted as a Consultant to ETPS; he retired from full time employment in 2008. He remains active in two professional societies and the flying supervision of a number of air display events; he continues to fly light aircraft.
He was awarded an Air Force Cross in 1978 and appointed Commander of the British Empire in 1996. In 2003 he was awarded the Master's Commendation from the Guild of Air Pilots and Navigators [GAPAN] for his work over 12 years in supervising the display flying at the SBAC airshow at Farnborough International, and in 2006 was awarded a Master Air Pilot Certificate by the Guild. He is a Fellow of the Royal Aeronautical Society recently completing nine years as a Council Member and Trustee; he chairs the Society's Heritage Scheme. He is a Fellow of the Society of Experimental Test Pilots [US] and an Honorary Member of the Flight Test Society of Australia.
Richard Bentley MRAeS – Branch Chairman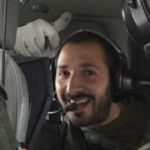 Richard is a Senior Avionics and Mission Systems engineer working at Boscombe Down on rotary- and fixed-wing trials. He joined QinetiQ at the beginning of 2015 and qualified as a Rotary Wing Flight Test Engineer after graduating from ETPS in 2017.
Prior to joining QinetiQ Richard worked at Lockheed Martin (LM) after graduating from university. His first role was as a mechanical systems engineer working onsite at Westlands on the VH-71 Presidential Helicopter programme. After two years he joined the Merlin Mk2 project team and was responsible for the design, integration, test and qualification of the Radar system, parts of the Tactical Mission Computer and other tactical systems. He was part of the LM flight test team involved in Merlin Mk2 trials at Westlands, Boscombe Down, Aberporth and onboard HMS Illustrious. His final two years at LM saw him designing and testing air traffic control systems at their offices within NATS, Swanwick.
He studied at the Universtity of Southampton and graduated in 2005 with a Masters in Aerospace Engineering. Richard became a Chartered Engineer through the Royal Aeronautical Society in January 2014 and now provides mentorship to his colleagues working towards IEng and CEng.
He lives in Portsmouth with his wife, Cara, and their two Siamese cats, Hector and Perseus. His hobbies include playing music, photography and football.
Geoff Clarkson FRAeS – Vice Chairman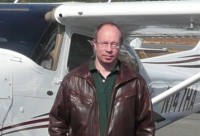 I have been working in aerospace systems engineering for over 25 years with a special interest in cockpit systems. I started my career at the Royal Aircraft Establishment working in the Flight System Department on simulation before moving into Systems Integration within the Defence Evaluation and Research Agency. In 2001 at the creation of QinetiQ, I moved to Boscombe Down and was part of the senior technical team within the QinetiQ Integrated Avionic Systems Group. I then moved into MOD Release to Service work as a Capability Leader.
Much of my career has involved the exploitation of advanced cockpit technology into both fixed and rotary wing aircraft involving considerable flight test activities and I was awarded a QinetiQ Fellowship in 2001. I have presented papers to a number of organisations including AGARD, SPIE and the Royal Aeronautical Society. I have also been a contributor to the RTCA and EUROCAE working group on Enhanced Vision Systems.
I am currently Head of Avionics & Electrical Systems within QinetiQ Air Division. I have a degree in Aeronautical Engineering, am a Chartered Engineer and a Fellow of the Royal Aeronautical Society. I also have a current Private Pilots licence and have recently taken over the Chairmanship of the Boscombe Down Branch of the Royal Aeronautical Society.
Norman Parker – Honorary Vice Chairman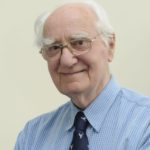 I joined the MOD in 1951 as a member of the Civil Aircraft Test Section (CATS) servicing a wide variety of aircraft. Leaving in 1955 for a three year stint with a Fairey Aviation working party on the Fairey Deltas and the Rotodyne ground test rig during which time we gained the world air speed record with the FD2. I rejoined CATS in 1958 as an Inspector and moved down to A Squadron when it changed to civilian servicing in July as a Tech Grade 3. I formed the Non-Destructive Test Section in 1964 with a X-Ray room in the Stop Butts moving to a custom built facility on the main site in 1971, renaming it the Early Failure Detection Centre as the methods developed were expanded to cover engine health monitoring.
I joined the RAeS Committee in the late 1950s until I left for a position in Industry, Quality Manager for Pains Wessex at High Post until I retired in 1986. I formed a small company manufacturing resin-bronze figurines and engraving for the trophy trade and serving as a Councillor in the Salisbury District Council. In 1996 I joined what has become the Boscombe Down Aviation Collection responsible for researching Boscombe Down history and operating the Collection achieve. I rejoined the RAeS Committee in 1999.
James Baseley BEng (Hons) ARAeS – Branch Secretary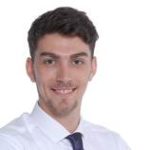 As well as being Honorary Secretary, James is a flight physics graduate at QinetiQ and has been since September 2015. He studied Aerospace Engineering at the University of the West of England, a course which included a year in industry within the aircraft structures department of GE Aviation, working on the Airbus A350. During his time so far with QinetiQ, James has mainly worked on the Wildcat Helicopter in Ship-Air Integration, Flare Safe Separation trials for the ATLAS (A400M) tactical and strategic airlifter, as well as some time spent on Flare Trajectory Modelling and Simulation. Outside of work he is a keen football and squash player, with a bit of golf thrown in (though only in the summer!). James is also learning to glide through the QinetiQ airmanship scheme and spends his evenings mixing and producing electronic music.
Ayuran Selvathasan MEng (Hons) ARAeS – Branch Treasurer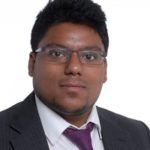 Ayuran joined QinetiQ in October 2016 with a particular interest in Flight Physics. During his time at QinetiQ, Ayuran has been involved in Ship Air integration, Typhoon Weapons integrations and Autonomy and Mission systems. Prior to this he graduated from the University of Bristol with an MEng Honours degree in Aeronautical Engineering. He has also spent a year working at Rolls Royce within their Aeroelasticity department, analysing fan blade aeromechanics of their new demonstrator engine. In his spare time, Ayuran likes to cook and has begun to learn to sing and play the guitar.
top
Sam Gibbons MSc BEng (Hons) ARAeS – Lecture Secretary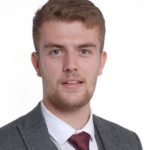 Sam is originally from Newport, South Wales. He started the Graduate Development Programme at QinetiQ in October 2016 and has a particular interest in flight physics. It was during his Air Cadet Solo Gliding Scholarship he was inspired to pursue a career in aviation and during university realised he wished to follow an engineering route.
Sam has a BEng (Hons) degree in Aeronautical Engineering from the University of Glamorgan and an MSc degree in Aerospace Engineering from the University of Manchester. He enjoys exploring the outdoors and has recently taken up bouldering and dingy sailing, although the latter, he says, would be more aptly named 'swimming with a boat'.
Ryan Potter – Early Careers Representative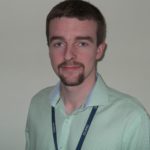 Ryan began working at Boscombe Down in 2014 when he started a 4-year apprenticeship in Aeronautical Engineering with QinetiQ. During his apprenticeship he has undertaken many theory and practical modules, and is now on the placement phase. He has worked in the hangars on several aircraft types, both fixed and rotary wing, as well as applying his skills to other office based roles and taking a secondment in the CEO's office. Ryan will graduate from the apprenticeship in 2018.
Ryan joined the branch committee in 2016 to fulfil the role of Membership Secretary. Since stepping down from this role he remains on the committee as a crucial link between the RAeS and the Early Careers community. Outside of work Ryan is a keen musician and plays regular live gigs in several bands.
Dr Scott Chappell – Dstl Liaison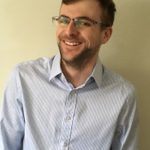 Dr Scott Chappell is an Aero-Systems Control Engineer at Dstl in the Threat Evaluation Group. Winner of the Best Newcomer 2016 in the Platform Systems Division, his primary responsibilities include hardware-in-the-loop investigations, acting as Work Package Technical Lead, and improving employee engagement via the Employee Engagement Champion role. Prior to joining Dstl in 2016, Scott worked at QinetiQ in the Modelling & Simulation team, was a Subject Matter Expert at the Noise Test Facility and worked on simulating SHOL limits for stationary helicopters on the deck of ships. In 2013, he obtained a Doctorate in High-Lift Device Noise Control with DBD Plasma Actuators from the University of Southampton. He also obtained a First Class Honours degree in Aerospace Engineering at the University of Southampton in 2009. His interests include hardware-in-the-loop testing, aerodynamics and leadership. He currently acts as Dstl's Porton Down liaison to the Royal Aeronautical Engineering Society's Boscombe Branch.
Adam Gedge – Webmaster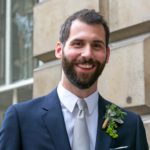 I completed an Avionic Technician apprenticeship at Boscombe Down and have been in the industry for nearly 10 years. As an Avionic Technician I was fortunate enough to be involved with some very interesting trials on mostly rotary platforms and managed to be part of a detached trial to Colorado, USA with the Puma 2 helicopter.  Since putting the tools down, I am now a Mission Systems engineer working mostly on the Merlin platform with projects such as the Mk4 and the new Crowsnest radar capability. In my spare time I enjoy outdoor pursuits such as running and hiking with a highlight recently trekking in the Himalayas.
Andrew Cooper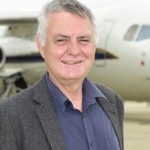 Andrew was born and raised in East Sussex, joining the Royal Navy direct from school in 1967,enjoying travel world wide. He left the Navy in 1975, joining the MOD(PE) Scientific Civil Service at the Royal Aircraft Establishment Bedford as an Aircraft Manager and Flight Trials Officer specialising in the research and development of Airborne Sensors and Electro Optics on behalf of the Royal Signals and Radar Establishment Malvern. Early work on helicopter sensors involved early infra-red detector research, and datalink, terrain warning radar and novel rotor blade radar research and development. Later work involved the installation of a Tornado cockpit and ejector seat into the cabin of a Viscount aircraft to research and develop the Tornado IR Reconnaissance System, and flight trials of that system before delivery to service for Test and Evaluation.
On closure of the research establishments Andrew transferred to Boscombe Down as a Senior Scientific Officer Aircraft Manager with the newly formed Aircraft Fleet Department.This role evolved into Project Management and he was instrumental in the design and production of Smartpod and its derivative Tornado Raptor pod. His experience allowed him to be a key player in the purchase and introduction to service of the QinetiQ Alpha Jet fleet, and managed the design and installation of Martin Baker ejector seats into the Alpha Jet.
Andrew retired from QinetiQ in 2013 and now lives on the edge of the New Forest with his family.
David Richer CEng MSc BSc(Hons) MRAeS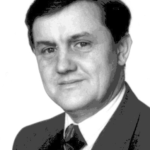 David was born and raised in Salisbury, and started at A&AEE Boscombe Down in 1966 as a craft apprentice.  In 1971 David was sponsored by MOD(PE) to Loughborough University as a Student Engineer; and was a member of the East Midlands Universities Air Squadron.  Following graduation David took a professional engineer (PTO) position with MOD(Air) at RAF Support Command Signals Headquarters.
In 1978 David moved to the Space & Communications Division at British Aerospace Dynamics Group in Filton, Bristol and contributed to a variety of space projects including ESA Giotto (fly-by of Halley's Comet) and elements for the NASA Hubble Space Telescope.
David is a past Council Member of the Society, a past Chairman of the Society's specialist Space Group, and a frequent attendee at Hamilton Place lectures and conferences.
David lives in Salisbury, and supports the Branch raising its profile to attract members from the wider local community beyond those based at MOD Boscombe Down.
Jared Godfrey
Jared has been a member of the RAeS Boscombe Down branch committee for a little over two years. Although not a diehard spotter, he has a keen interest in aviation and general aerospace which started at a young age and is to blame for some of his costly purchases on seemingly useless paraphernalia and gadgets which his wife does not always understand! Jared has a great excitement for aerospace and is passionate about the opportunities that exist both in the industry, but also here within the local branch with the quality of lectures delivered. He encourages all to come and participate in the fine line-up of lectures in store for the next year.
Sqn Ldr George Williams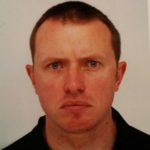 Sqn Ldr Williams is an experienced helicopter experimental test pilot with 16 years of military aviation experience and he has accumulated 3200 hrs across many different types. Operationally, he flew Merlin HC Mk3/3A in Bosnia, Iraq and Afghanistan before being 2ic of the Merlin Operational Conversion Unit. Following training as a Test Pilot at ETPS in 2012, he was project pilot for Merlin and Puma trials programmes. He now carries out T&E and flying assurance of activities within the RAF's Air Warfare Centre. He is an Upper Freeman of the Honourable Company of Air Pilots and is working towards his CEng with the Aeronautical Society.
Jon Cameron MMath MSc ARAeS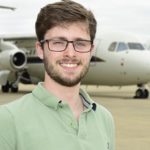 Jon studied for Masters Degrees in Applied Maths and Aeronautical Engineering at the Universities of St. Andrews and Glasgow respectively before joining QinetiQ in September 2015 as a Graduate Engineer in Flight Physics. He quickly joined the local Royal Aeronautical Society branch as an ordinary member before taking over the role of Hon. Treasurer in April 2016. During his time at QinetiQ he has worked primarily within Rotary Wing Test and Evaluation, and also serves as the Secretary and member of the Project Management team for the Branch's STEM Outreach project, the Boscombe Down Balloon Challenge.
PAST MEMBERS
Sophie Robinson MRAeS – Chairwoman (until Oct 2017)
I completed my undergraduate degree in Aerospace Engineering at the University of Liverpool, and liked it so much I decided to stay on and do a PhD within the Flight Science and Technology Lab there.  My research focussed on rotary wing simulation, developing and flight testing simulation models of autogyros with the intention of improving their safety record.    I came to work at QinetiQ in July 2013 and have worked on a variety of rotary wing platforms, including Wildcat, Chinook and Puma 2. In my spare time, I am an endurance sports enthusiast, and enjoy ultra-distance running, triathlon and outdoor swimming. In 2012 I swam the English Channel as part of a relay team to raise money for spinal injury charity Aspire.
James Innes – Secretary
Having been brought up in a family dominated by the Aerospace industry, my degree choice of an Honours Degree in Aviation Engineering at Brunel University seemed fairly logical. As did joining QinetiQ at the prestigious MOD Boscombe Down following graduation in July 2014. Having joined as a Flight Physics Graduate in September, I was swift consumed by the imminent arrival of the RAF's newest asset the A400M Atlas and involved in several areas of preparation for its arrival into RAF service. As an avid aviation photographer in my spare time, as well as holding an EASA PPL, my life is fairly dominated by aviation and I wouldn't have it any other way.
Gareth Edwards ARAeS – Treasurer
I studied Aerospace Systems engineering at Coventry University, graduating with a BEng in 2014. I joined the QinetiQ graduate scheme September in the same year. So far in the scheme I have done a stint in Weapons Integration on Tornado. I took on a combined secretary/treasurer role within the university cycling society and decided to continue this level of involvement with the Royal Aeronautical Society shortly after starting working for QinetiQ. Needless to say I spend a lot of time cycling and attempting to maintain a high level of fitness. I also enjoy kayaking, mountaineering and have some experience caving.
Keiran Bell AMRAeS
Born and raised in Glasgow, I flew the nest last July to start at QinetiQ after graduating from the University of Glasgow with an MEng in Aeronautical Engineering. I joined as a Graduate Flight Physics Engineer and was initially placed within the Chinook Mk6 team, analysing Flight Test Data. After 5 weeks in QinetiQ I was lucky enough to be given the opportunity to go on a detachment to America to be involved in further Chinook Mk6 flight trials. After 3 months on detachment, the trials were successfully completed and I returned to the UK to work within the modelling and simulation team conducting CFD analysis on F18 stores and pylons. I have now moved onto the Hercules team where I have been involved in a range of multi-disciplinary tasks, encompassing Air to Air refuelling through to external fuel tanks. In my spare time I like to play football as much as I can, I enjoy skiing, running and going to the gym.
Rod Angel FRAeS FRIN – IPDS and RIN Liaison
I live in the Wylye valley, near Warminster, and am married to Jan. We have two grown-up daughters. For pretty much all of my working life I have been involved with aircraft or aeronautics in one form or another. This began in January 1971 when, having just turned 17, I joined the RAF as an aircraft apprentice. After two years at 2 S of TT (Cosford) I became an Electronics Fitter of Navigation Instruments. As a maintenance technician I then saw squadron service in the UK, Cyprus, Germany, and Iran. I was first commissioned in 1976 and, following a brief flirtation with the Fighter Control Branch and an extended summer holiday, began aircrew training at 6 FTS (Finningley). Re-commissioned as an Air Electronics Officer, I completed flying tours on the Vulcan, Nimrod, and Canberra; and ground tours at the Electronic Warfare Operational Support Establishment, and the Department of Air Warfare. After the year-long GD Aerosystems course at DAW, I arrived at Boscombe Down to become the resident AEO on Fixed Wing Test Squadron (now 206 (Reserve) Sqn), but best laid plans… ETPS were short of an Aerosystems Tutor and the job on FWT Sqn was, to be fair, less than full time. I did manage a couple of trips as the Comet radio operator, but the ETPS role rapidly became my main job, and in that I completed my final, arguably most enjoyable, tour in the RAF. Then, as now, staff and students at ETPS worked hard, put in long hours, and had a lot of fun. I completed my Permanent Commission and retired from the RAF in 1993 with more than 30 aircraft types in my logbook, including most of the Boscombe Down air fleet of the day; the DC10; an open-cockpit microlight; the supersonic FA18A; and the very-subsonic Shackleton. Over the next 3½ years I worked as an independent consultant (largely on MOD programmes) and completed an MSc in Navigation Technology at the University of Nottingham's Institute of Engineering Surveying and Space Geodesy. In 1997 an opportunity arose to join an exciting international research programme. So, having just handed in my MSc dissertation, I began my first 'proper job' at DERA (now QinetiQ) Farnborough as the Day/Night All-Weather helicopter programme Technology Leader (later Research Leader). Within two years, the tunnel back to Boscombe Down had been completed, and I relocated to concentrate on managing the programme's laboratory aircraft; a heavily modified Lynx Mk7 with a whole world of novel pilotage aids and other avionic systems. However, funding cuts and 'restructuring' eventually bit and I transferred my attention to the C130J, which was then about to enter RAF Service. Since then I have worked with many of our air-domain evaluation teams, included Chinook, Merlin, Nimrod, Tornado, unmanned aircraft, and parachutes. More recently, I worked for a couple of years in Technical and Information Services sector (formerly QinetiQ Consulting) supporting MOD in the procurement of complex military systems. For some years now, my main secondary duty has involved mentoring our young (and some not so young) engineers in their progression towards Chartership. The QinetiQ Initial Professional Development Scheme is one of the largest in the country, and certainly one of the most proactive. Having served as the Site Senior Mentor at Boscombe Down, and as the Professional Body Senior Mentor for the RAeS, I now manage the Scheme across QinetiQ's UK based operation. Since the beginning of 2012 that role has expanded rapidly, and it is now an integral part of my 'day job', which is Head of SQEP and Professional Development in our Weapons Division. We are acutely aware of the need to maintain high levels of professional competence, despite commercial pressures; and especially so in those areas where we undertake potentially hazardous trials work. In some things, you simply can't afford a mistake! At home, renovating a 200-year old cottage keeps me busy. I try to keep the dust off my amateur radio station's Morse key, and kite borne antennas are a current interest; but model rocketry has had to take a back seat for the last couple of years.
Tony Price MIMechE – IMechE Liaison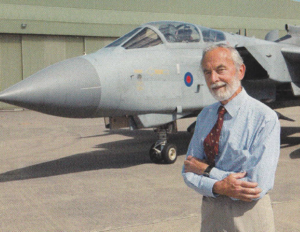 (Tony  a long serving and keen committee member sadly passed away in July 2017. Below is his bio when he was in the committee.)
Born and brought up in Yorkshire, Tony completed a five year engineering apprenticeship at RAE Farnborough and joined A&AEE Boscombe Down in 1960. As a Trials Officer/Flight Test Engineer in Engineering Division, he conducted flight trials with fixed and rotary wing aircraft in the UK and abroad. These included climatic tests in hot and cold environments (Arizona, California, Florida, Singapore, Cyprus, Libya and Canada) and on board HMS Ark Royal and HMS Sheffield. He enjoyed the variety of duties as engineer-in-charge Environmental Hangar and Blower Tunnel and lecturer on oxygen systems, ejection seats and survival equipment at the Aeromedical School. As a Chartered Engineer and Member of both the IMechE (1960) and RAeS (1975) he serves on the committee of both local branches. Tony and his wife, Mollie, daughter and son have enjoyed living in a nearby, rural Wiltshire village which proved compatible with hobbies of cottage restoration, gardening, car maintenance and bee-keeping.