Wednesday 11th April saw in the Boscombe Down branch's year-end with our Annual General Meeting followed by the final lecture, An Independent RAF? from Greg Baughen.
Members of the Committee presented a run-down of our year (2017-2018) and future plans to the audience. We had a great year in terms of diversity of lectures and an increase in branch members joining us. Key numbers include:
 173 branch members – our highest ever;
 57% of branch members hold RAeS membership;
 11 lectures held across the year (September 2017 – April 2018);
 60 – average lecture attendance;
 15 – average number of CPD certificates requested at each lecture;
 200+ visits per month to this website, accessed from all over the world and on different platforms;
 Accounts were barely in surplus meaning we achieved our aim of breaking-even (as a non-profit organisation, such as ourselves, should aim for).
It was my pleasure to award James Baseley, Branch Secretary, with the Committee Award to recognise his contributions to the branch throughout the year.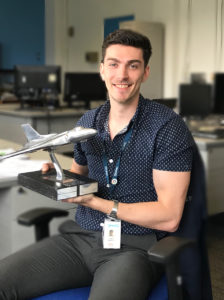 As you know, the RAeS is a charitable organisation which is also true of the Boscombe Down branch. This means that the committee members work voluntarily to ensure that we not only continue to deliver the diverse range of lectures but also that we meet the Society's Strategy that includes; delivering impartial/authoritative/relevant knowledge, creating a broad appeal to attract a diverse and active membership base, active promotion of the Society's brand in order to enhance reputation and grow membership .
Our committee members are all either in full-time employment or have other major commitments outside of the RAeS but all share the passion of continuing to promote the multi-faceted topic of aerospace engineering not only to our members but to the general public. Meet our committee and find out more about us.
Despite the summer break approaching the committee continues to meet regularly to plan for the new season and complete other branch activities. We are close to publishing next season's lecture calendar and other activities – keep your eyes peeled!
I would like to end with a 'thank you' to all our committee members who work tirelessly in the background to keep our branch vibrant and help our members achieve professional registration, to our lecturers for giving us a broad range of interesting and at times humorous presentations and to our members whose attendance and support makes it all worth while.
Richard Bentley – Branch Chairman