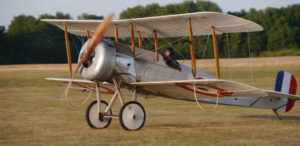 On Friday 7 July 2017 a Bristol Scout biplane will return to the Grade II Listed Flying Sheds at Larkhill for the first time in 103 years. The prototype Scout flew for the first time from Larkhill in February 1914 and no Bristol Scout has been seen there since.
Scout C Serial No.1264, one of a batch produced in the Summer 1915, was recreated from three original parts kept as a souvenir by Flt Sub Lt F.D.H Bremner RNAS. She is the only airworthy Scout in the world today. This will also be a rare chance to see inside the historic Grade II listed flying sheds at Larkhill, which are normally closed to the public. To mark this unique occasion there will be a programme of engine runs, photoshoots, presentations and displays throughout the day telling the story of the Scout, its pilots, and the amazing recreation of this particular aircraft.
Event Details
Date:            Fri 07 July 2017
Location:     Wood Road, Larkhill
Time:            10.00am until 3.00pm
Admission:  Adults £5.00. Children (under 12) Free*
Please note that this is not an RAeS branch event.
Further Information
Contact:  Wings Over Stonehenge
Roger Green (Event Coordinator)      01980 849040 / 07952 024090
Tim Brown (Publicity)                             01209 219778 / 07753 677548